Before you lease a copier, you probably thought about what you need to consider. A lot has changed in the past few years and the prices for office copiers have changed too.
If you have not leased one before or it has been a few years since your last lease, things have changed. So why is it so difficult to get straightforward answers to copier leasing cost questions?
Because the answer to the question depends on different factors. You might think that copiers have not changed a whole lot over the years, but the reality is that the manufacturers make massive improvements since then.
Consider what you do when you purchase a car. When you buy one, you weigh different factors like make and model, price, new or used, features and maintenance cost.
Just like what you consider when you get a car, it is the same consideration that you should apply for your copier. After all, there is a massive difference when it comes to prices between different car models.
There is also a massive difference in the features and services that you receive with each too. However, not everyone needs a brand-new high-end SUV, and likewise, not everyone needs a high-end copier. Your budget is the most important consideration, but making sure that your machine does what you need it to do also has to be a top priority.
There is also no point in getting a copier that can't complete the necessary functions needed for your business. So what are the costs linked with the equipment, the features and the service?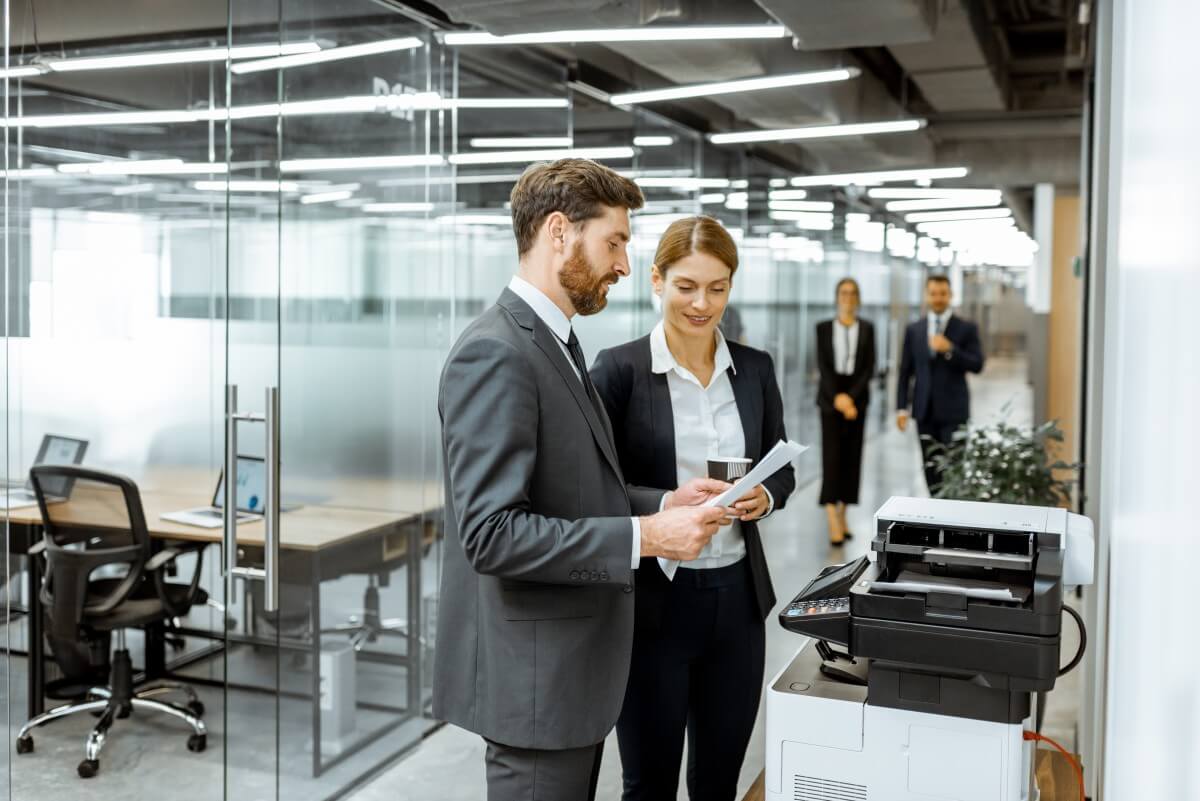 Copier Cost Considerations
The following quotations are total costs for those wishing to lease a copier outright and do not include higher-end production printers. Prices may depend on the vendor, but there is a ballpark number that can be given. 
The copier equipment costs around $2,500 to $60,000. That is expensive. Luckily, most service companies will first offer you lease programs before selling you anything. You can make reasonable payments like a month on your office copier. You can check about your copier lease agreement. 
Your equipment is very important to consider. Making sure that your copier will be able to keep up with the demand that you place on it is as important a consideration as the overall price. Why? Because if your machine can only handle 100,000 impressions before service, but you need to run 500,000 impressions every month, you may spend more money on servicing the machine than the upgraded model would have cost you.
A combination of copier model upgrades and additional units can be the solution to a volume issue. Convenience often factors into the equation, but finding an appropriate balance will best serve the needs of your overall budget.
The features will cost you $200 to $2,000. As soon as you have picked the machine to place in your copier leasing contract, you need to think about your copier leasing services and check which can handle the monthly volume your office requires.
Making copies is great, however, most offices need more than basic copy functions. There is a reason copiers are now technically referred to as multi-function printers, and it is because they offer so much more than a single function to users.
Copiers can send emails, scan documents directly to shared folders and edit documents directly from the displays. Some can even intuitively sort individual receipts scanned during the same task, and all offer significant upgrades to their security.
If you are in Nebraska and you are looking for a Copier in Nebraska for your business, you may contact Clear Choice Technical Services in Nebraska. You can ask about Copier Leasing Services in Nebraska, Copier rental services in Nebraska, and Copier Repair in Nebraska.
As for the service, that will cost you around $0.01 to $0.10 per page. For Copier leasing services in Nebraska, for example, the pricing can depend widely from dealer to dealer, and even wider from dealer to manufacturer, which is more on that in another section. The massive difference here happens when comparing different machines, and copier leasing in Nebraska.